The Freeland Athletic Association would like to recognize Freeland's Senior Student Athletes who are taking their game to the next level after high school by making you a part of a special social media recognition. Please email the following to Kim Cairy at
kim.cairy@gmail.com
: A senior picture, your sport, and the college at which you will be competing. Please send this information by Friday, March 19, so you can be included.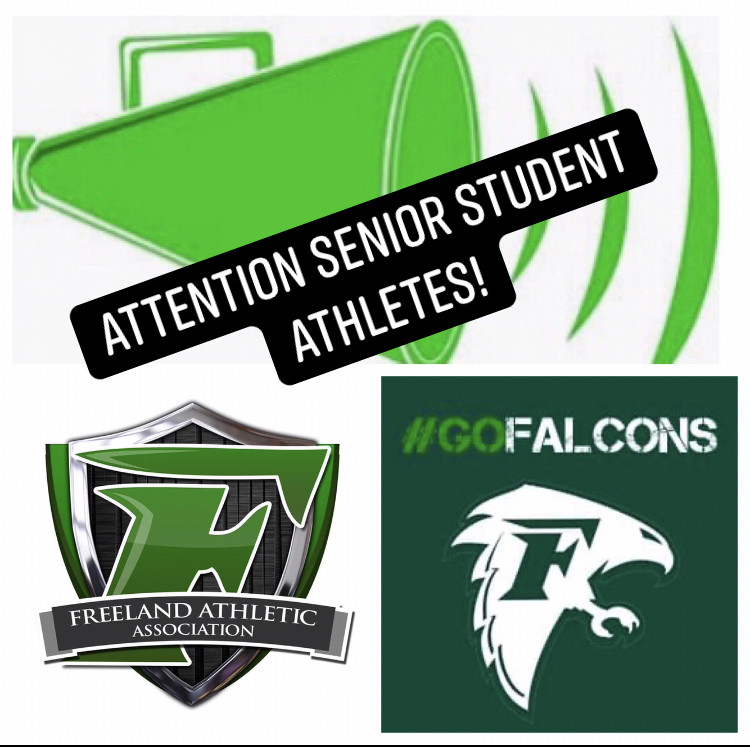 Freeland Learning Center Staff Highlight - Ms. Patricia Taylor This week, Freeland Learning Center is highlighting one of our Nutrition Services staff members, Ms. Patricia Taylor. Ms. Taylor has been working in the Nutrition Services department in the role of kitchen staff for the past six years. Ms. Taylor is also a grandparent of students in our district. Her older daughter suggested the position to keep Ms. Taylor occupied after retirement and also as a way to be able to see her grandchildren while they were in school. Next year Ms. Taylor's grandchildren will be at the Freeland Middle/High School campus. She enjoys working at the Freeland Learning Center with the younger students and watching them grow during their first three years of school. Ms. Taylor is a very kind and caring person. She is always going out of her way to provide students with a nutritious breakfast and lunch as well as recognizing and rewarding students for making great choices in the cafeteria. When asked what she finds most rewarding about her position, Ms. Taylor said, "Working with a great school and kitchen staff, I am proud of how hard our kitchen staff has worked during the pandemic to provide meals for not only students in the school setting but also those who are learning remotely." Thank you Ms. Taylor for your dedication to the students and families of the Freeland Learning Center and for all you do for the Freeland Community School District.

Freeland Basketball beats Swan Valley, 63-60. 9th & JV win as well.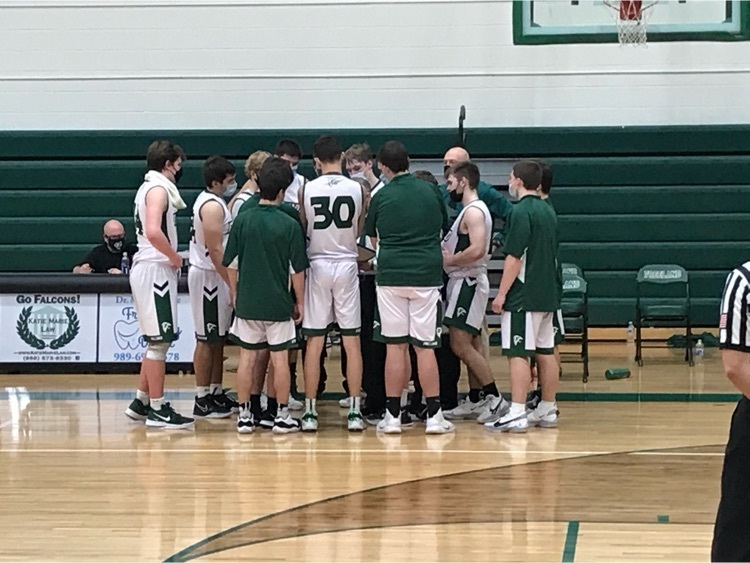 The Freeland Community School District will be closed Tuesday, February 16, 2021.

Freeland Basketball tops John Glenn 58-46. JV & 9th win as well.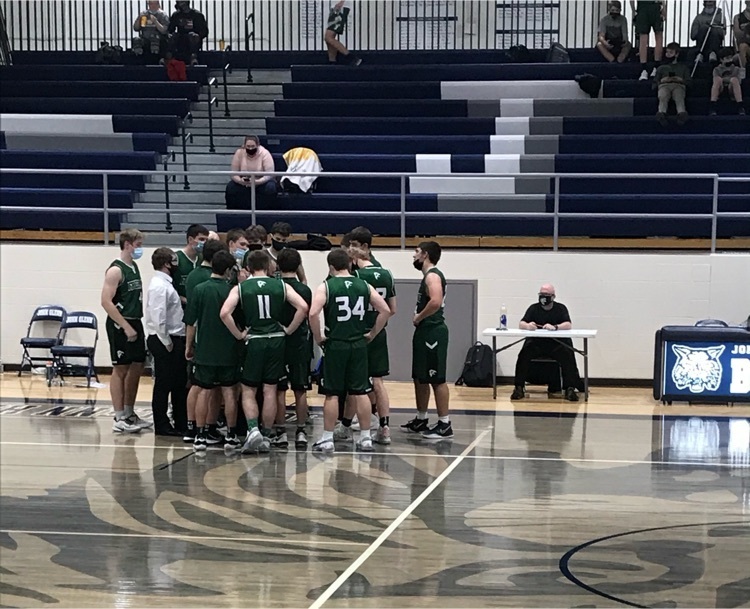 Freeland: Here is your opportunity to show some LOVE for our Senior class who is missing out on so much this year! We have the opportunity to have each senior (all 160) to be on the light poles throughout downtown Freeland. The banner design has been created and there will be a SENIOR on each side of the banner. Tittabawassee Township will hang the banners right after Walleye Fest, and leave them up until July! The organizers need donations to make this work. The total cost for the banners is around $5,000. Any donation will help! Please consider joining the effort to help make the end of the 2020-21 school year a postive one for our graduating Falcons. Marie Glinski has offered to collect for the project: Venmo: Marie-Glinski-1 Apple Pay: 989.859.9435 PayPal Check to: Marie Glinski, 431 10th Street, Freeland, MI 48623 Thank you to our generous donors!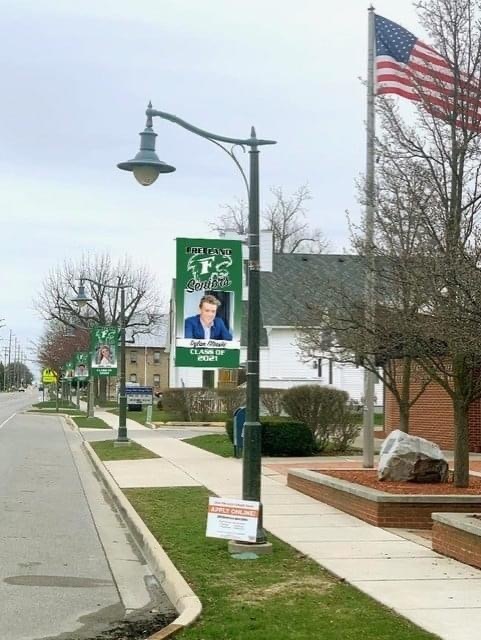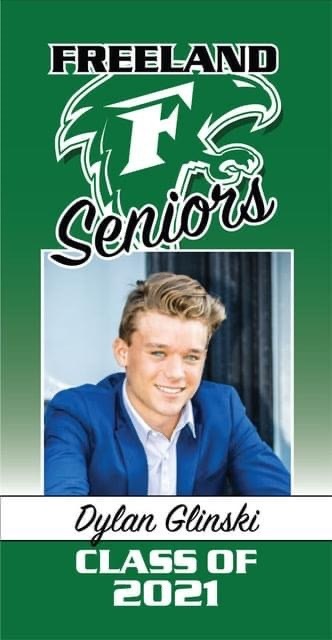 Freeland Wrestling started their season with six (6) wins, going 3-0 on both Friday and Saturday. Congratulations to Tyler Tomasek on earning his 100th career win.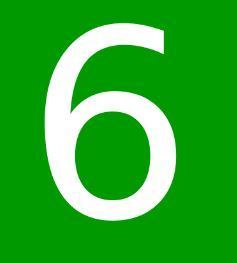 FNV Griffins defeat Fenton-Linden 5-3

Boys Basketball: Freeland tops Bridgeport 58-48 in OT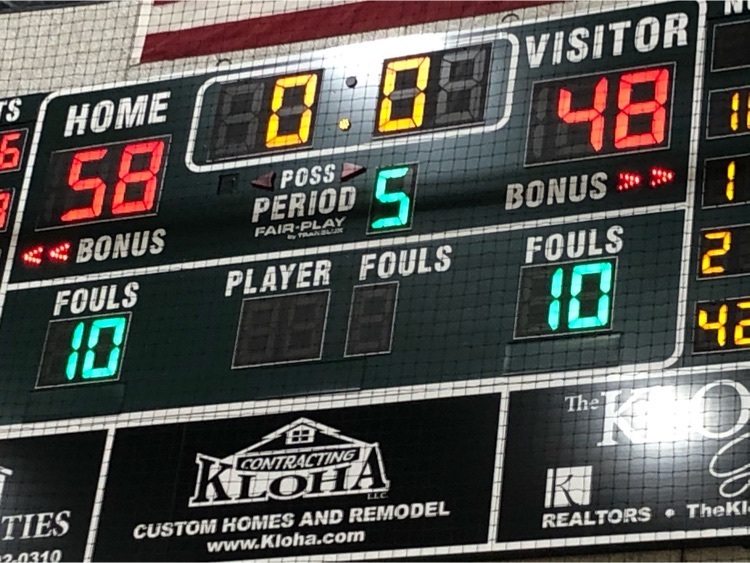 Hockey season opened last night for Freeland. FNV Griffins defeated the Bay Area Thunder: 8-0 Brendan Maly scored his 100th goal. A great start to the season!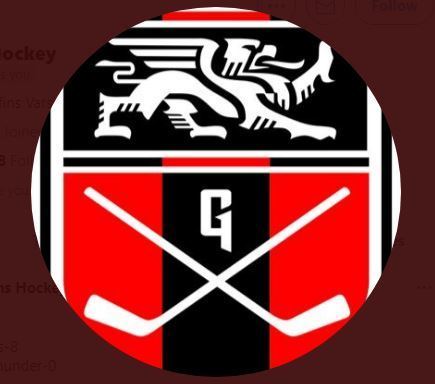 Freeland Parents - On Tuesday, February 16, 2021, Freeland Schools will be sending over 150 staff members to get their 2nd COVID-19 vaccination. Not knowing how many of our staff will experience significant "after-effects" of the vaccine, the Freeland Community School District is making the decision to have all of our "in-person" learners go to "remote" learning for two (2) days, Wednesday, 2/17, and Thursday, 2/18. Though we are disappointed to have to do so, we see this as a far better option than canceling school the morning of the 17th because we do not have enough bus drivers able to get students to school or teachers able to cover our classes. The "remote" learning for your students should look a lot like what we provided when we had to go "remote" in late November/December of 2020. Teachers will be teaching remotely from their classrooms. If they are too ill to come to work, they will provide an asynchronous learning opportunity for their students. Look for more information and communication from your building principal and/or your classroom teacher. We apologize for having to do this and expect that our preparation provides a better opportunity for learning than our reaction would. We hope and believe that this decision, made now, is in the best interest of our students and you as their parents. Please let me know if you have any questions. Matt Cairy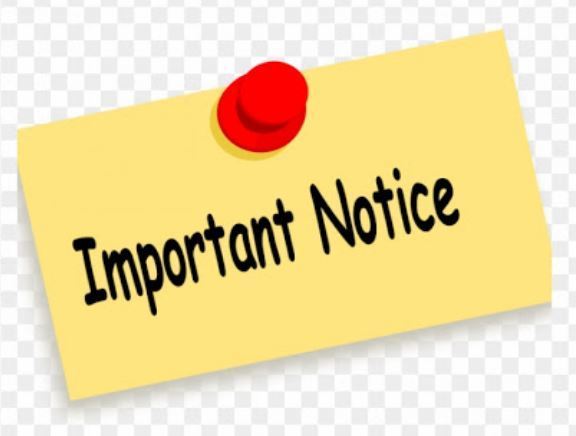 As a reminder, parents and caregivers can text FOOD or COMIDA to 877-877 to find the nearest food distribution locations. Our Nutrition Services team and student volunteers will be distribute seven days worth of breakfast and lunch today, from 4:30-7:00 from Freeland Elementary. Meals are free to anyone 18 and under. Meals are available to ALL, not just Freeland students.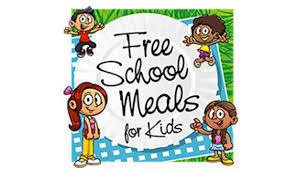 Regretfully, the Tri-Valley Conference has cancelled winter Middle School sports seasons for the 20-21 school year. Delays and the limited availability of game officials led to this decision. We look forward to Middle School track in April. A real bummer for our students.


Summary of athletic changes from yesterday: Beginning Monday, sports will be permitted with protocols to ensure health and safety. Athletes will be required to wear masks in contact sports, with exceptions for sports where masking poses a threat to safety (e.g. wrestling). Masks are not optional for sports where they can be worn safely (e.g. basketball). When students from different schools compete, testing must be performed when masks are not worn. Attendance at competitions to be limited to two spectators per participant. We are excited for our student-athletes. Go Falcons!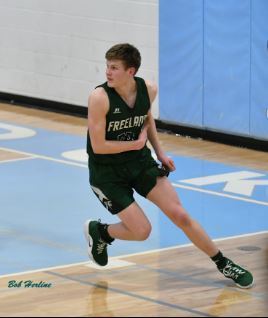 Our Nutrition Services Department gave Hidden Harvest a call about extra milk and fresh broccoli. They were glad to pick it up to distribute it. We are thankful for a great partnership and helping to do our part. #puttinggoodfoodtogooduse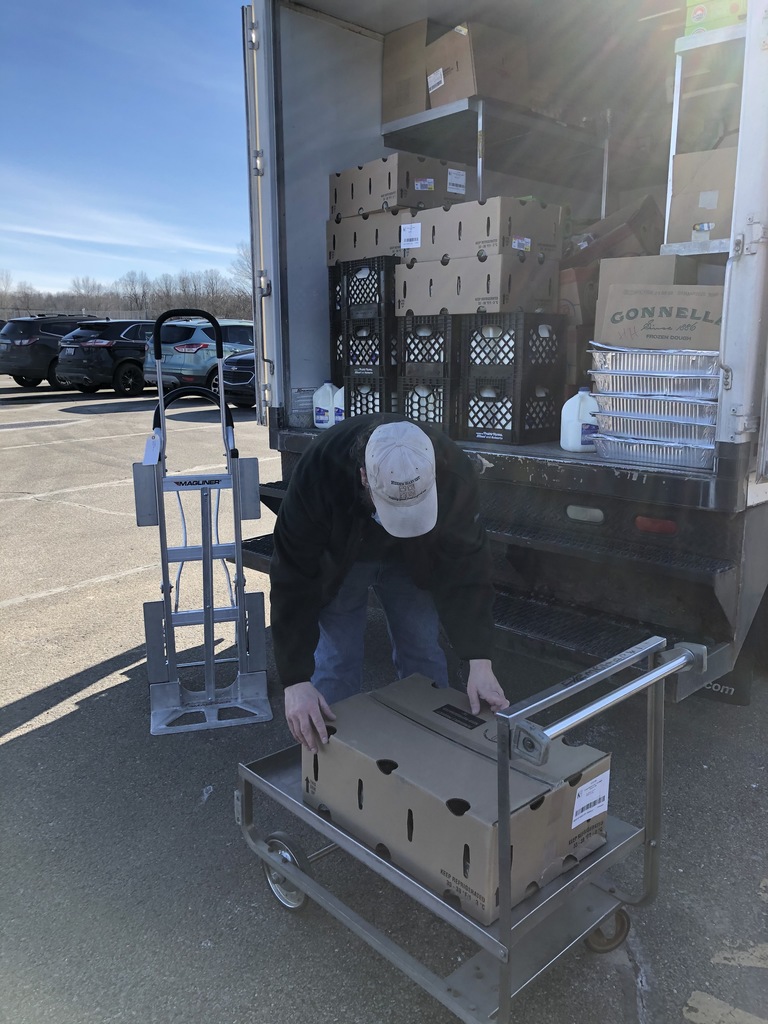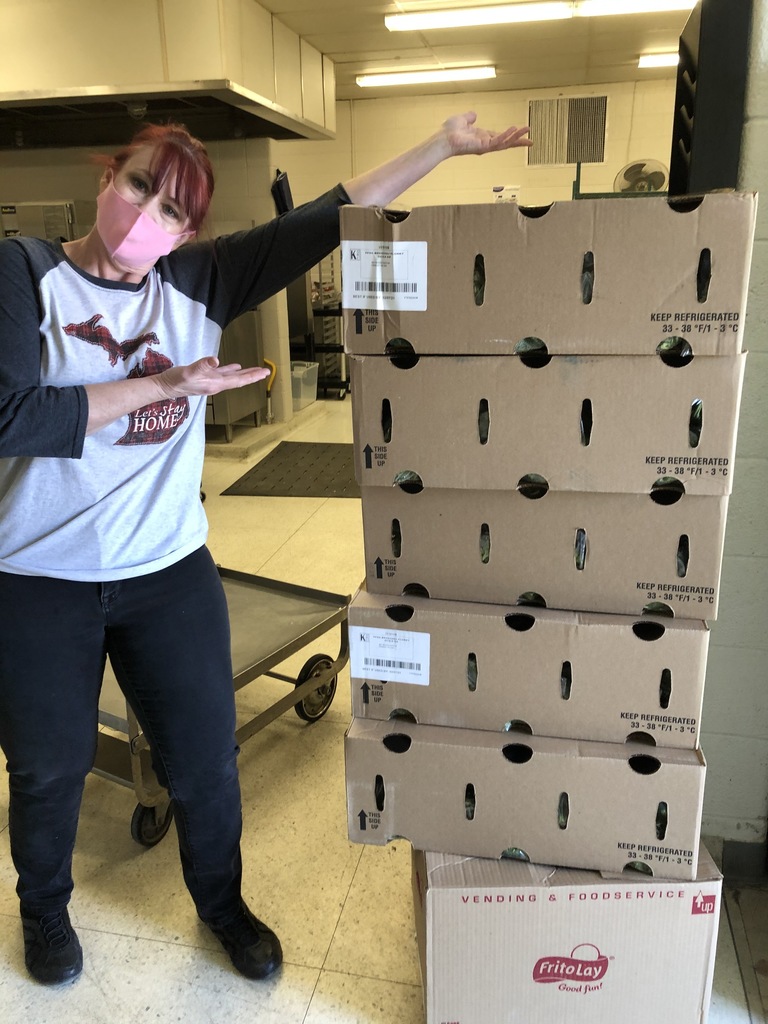 Tonight, on behalf of the students of Freeland, the Freeland Board of Education passed a resolution calling for MDHHS and our Governor to allow Michigan school districts the option to allow in-person contact sports. Freeland is supporting our student-athletes.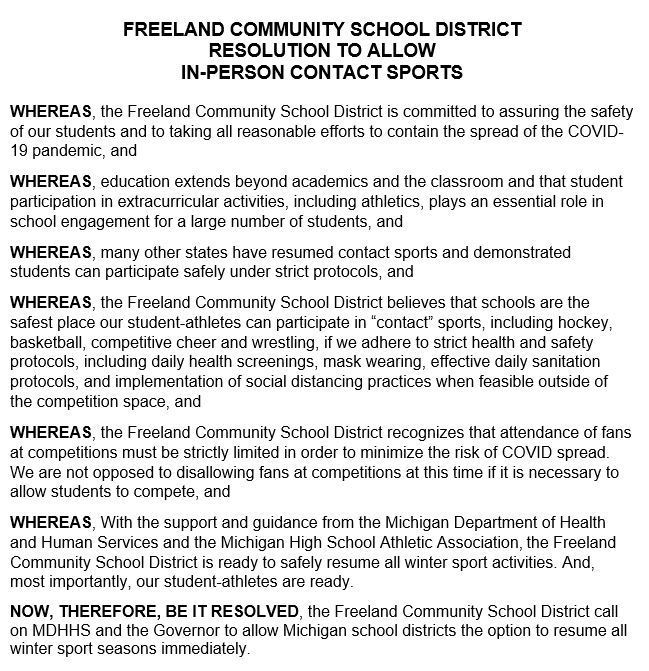 Congratulations to FMS 8th grader Chloe Pan! Chloe won the Patriot's Pen competition for the State of Michigan (the 1st Freeland student to do so) and is advancing to the National Competition. Awesome job!