Congratulations to FHS Junior, Avery Mantei, who was honored last night by the MSU Alumni Club of Saginaw County for being an outstanding student! If she chooses to attend MSU, she will receive a $5,000 scholarship. She is pictured here with her parents, Brook and Matthew, and with her Guidance Counselor, Mrs. Essex. We are so proud of you Avery!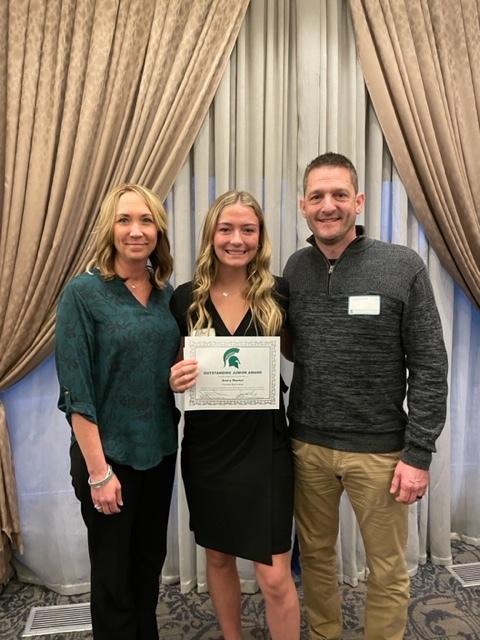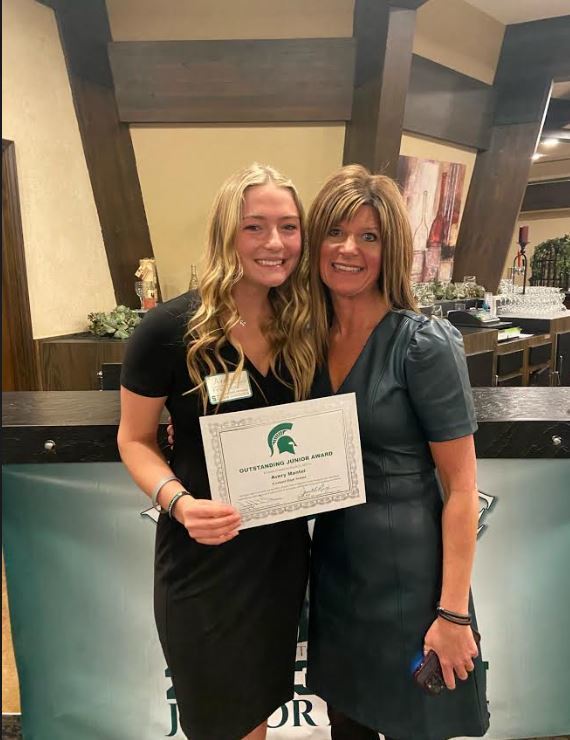 Congratulations to our FHS students who competed in SkillsUSA and are moving on to states! *Luke McLaren 2nd Overall Welding Welding *Lucas Hildebrandt 1st American Spirit Law Freeland *Anthony Cichowski 4th CSI (crime scene Investigation ) Law Freeland Good luck as you advance to State Competition in Grand Rapids April 14-16!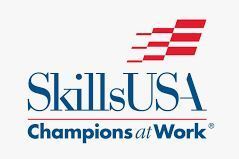 Congratulations to our FHS students who competed and won in these DECA events! *Zak Turek State Qualifier Hospitality Service Entrepreneurship *Alexandria DeMitchell State Qualifier Integrated Marketing Campaign *Alexandria DeMitchell Medalist Travel and Tourism Entrepreneurship *Alexandria DeMitchell International Qualifier Integrated Marketing Campaign She will also be attending the National Competition in Orlando, FL April 22-25 Great work students!


Congratulations to our FHS students who won in their Business Professionals of America competitions! Regional Competition Winners *Austin Thompson 1 Website Design Team *Gavin Spaulding 2 Business Spelling *Jacob Morris 2 Video Production Team *Nolan Proctor 2 Video Production Team *Nathan Rosebush 2 Video Production Team *Gavin Spaulding 4 Fundamentals of Web Design They attended BPA state competition in Grand Rapids 3/9-3/12. State Competition Winners Austin Thompson 5 Web Design Team Virtual Competition Winner Landon Freier 1 Mobile Application Design He is attending BPA national competition in Anaheim, CA 4/26-4/30! We are so proud of your hard work!

Today, students from Mrs. Neal's Health classes traveled to MyMichigan Health to their simulation center. Students participated in seven hands-on learning stations as well as a career panel that included a number of health related careers. At each station, students heard an educational component related to a hands-on activity. Students learned the warning signs of a heart attack, diabetes prevention and management, wound care, respiratory distress. and much more. Students practiced skills such as using a stethoscope, putting in a breathing tube, hands-only CPR, and administering insulin to their "orange" patient. We want to send a special thanks to MyMichigan for hosting such a valuable learning opportunity!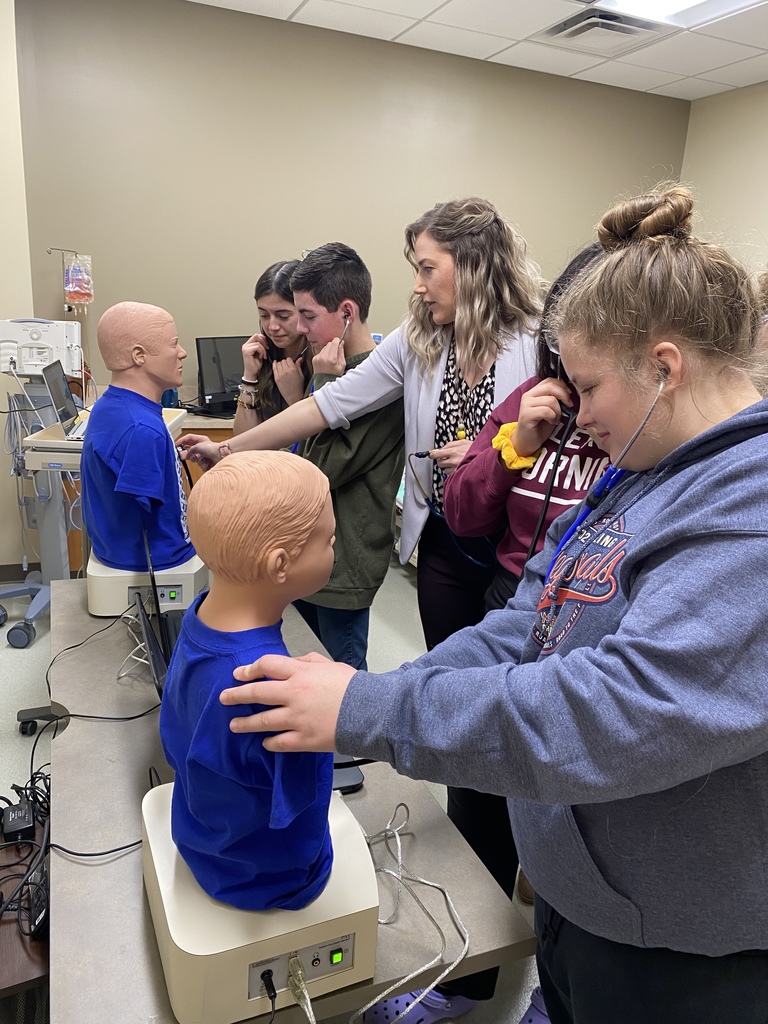 Last week, Mrs. Klida took a group FHS Art students to visit the SVSU Marshall Fredericks Sculpture Museum and the Saginaw Art Museum. They had a great learning opportunity and viewed some amazing artwork.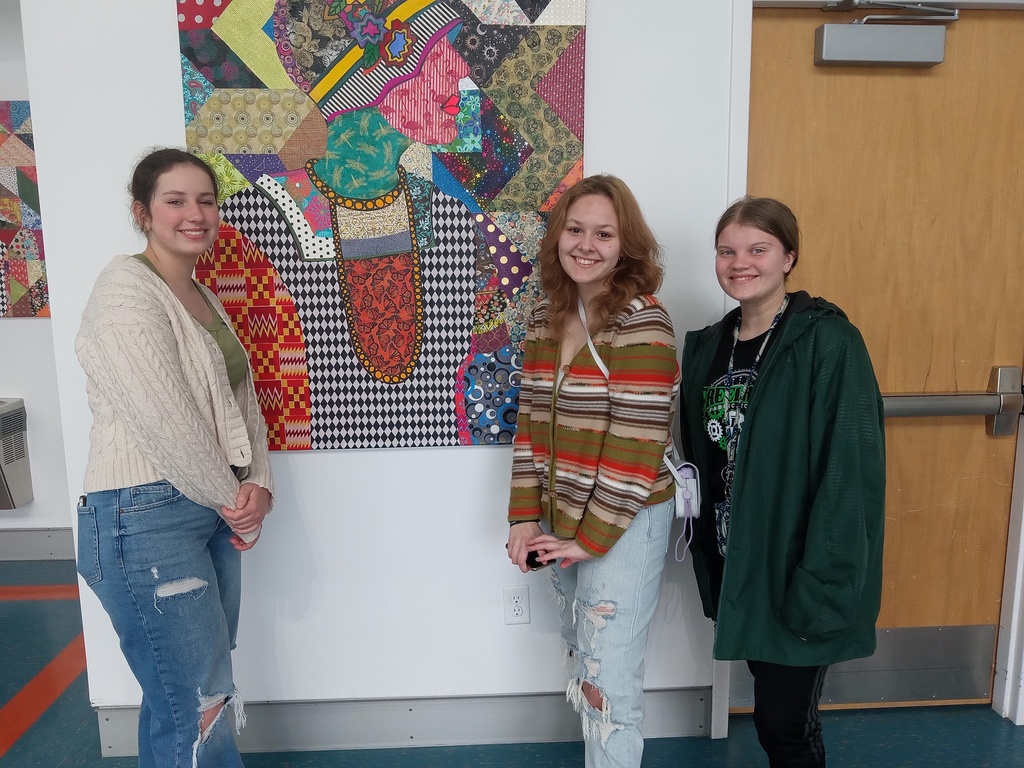 Today, all sophomores at FHS participated in Mock Interviews. We would like to thank Melissa Gleason and Junior Achievement, for assisting us by organizing 24 business leaders to provide this real world experience! Students were dressed to impress, and had a valuable learning opportunity made possible by all of these amazing volunteers.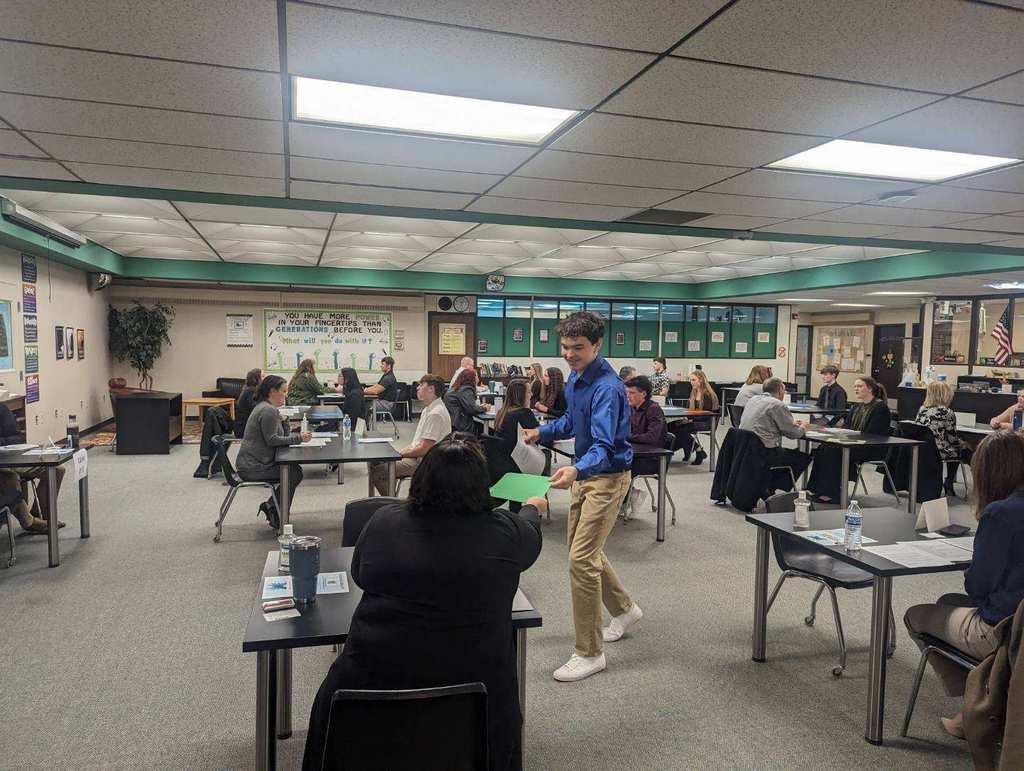 Congratulations to senior Ally DeMitchell, for winning the Integrated Marketing Campaign event at the DECA state competition last weekend. She placed in the top 6 to move on to the National competition in Orlando, April 22-25. Good Luck at Nationals!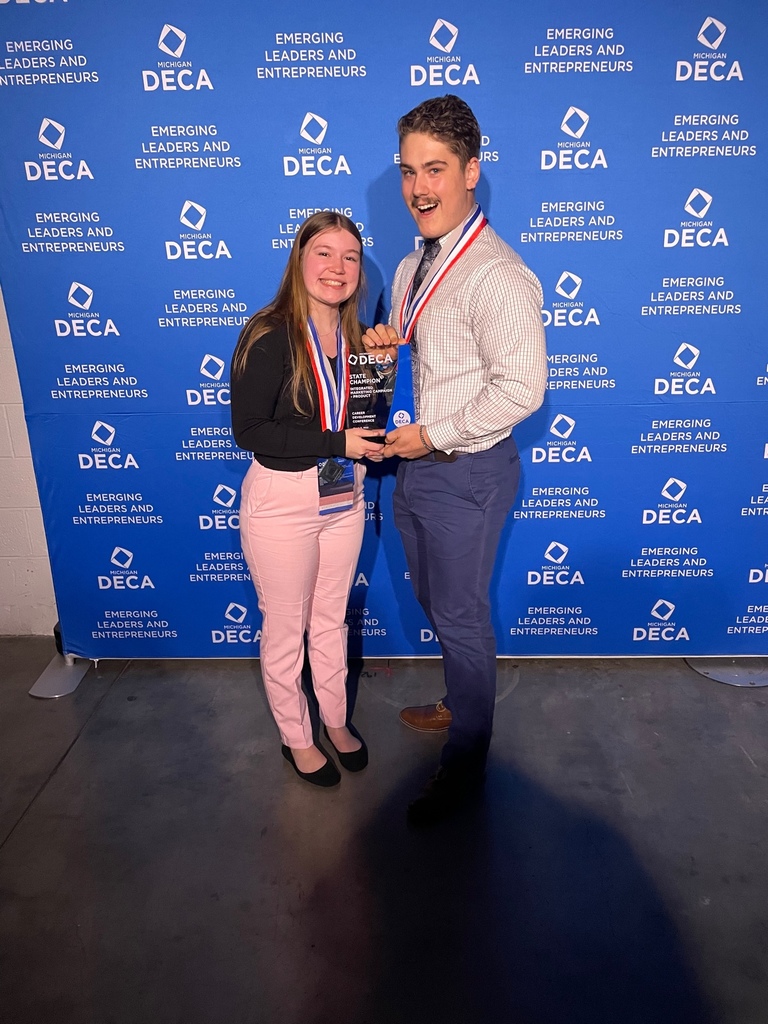 FHS seniors are getting ready to present their Senior Capstone Projects. They have prepared for these presentations and we are looking for judges. If you are able to help judge, any time between 1 -6 pm on April 20, we would love your help. Please use this QR code to sign up.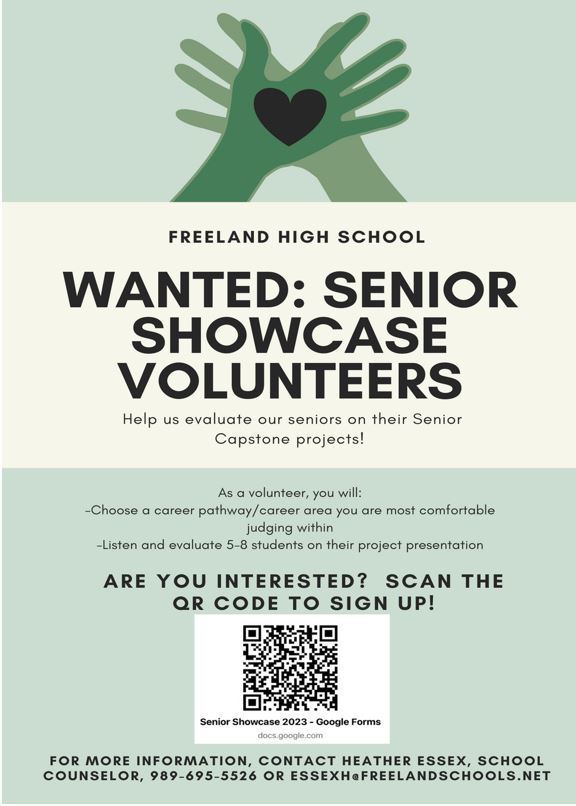 Today, the Students Leading Students group at FHS provided our students with an entertaining magic assembly which focused on how to help support ourselves and others with our mental health needs. Thank you to our sponsors, Burt Watson and the Freeland Parent Support Organization, for funding this assembly!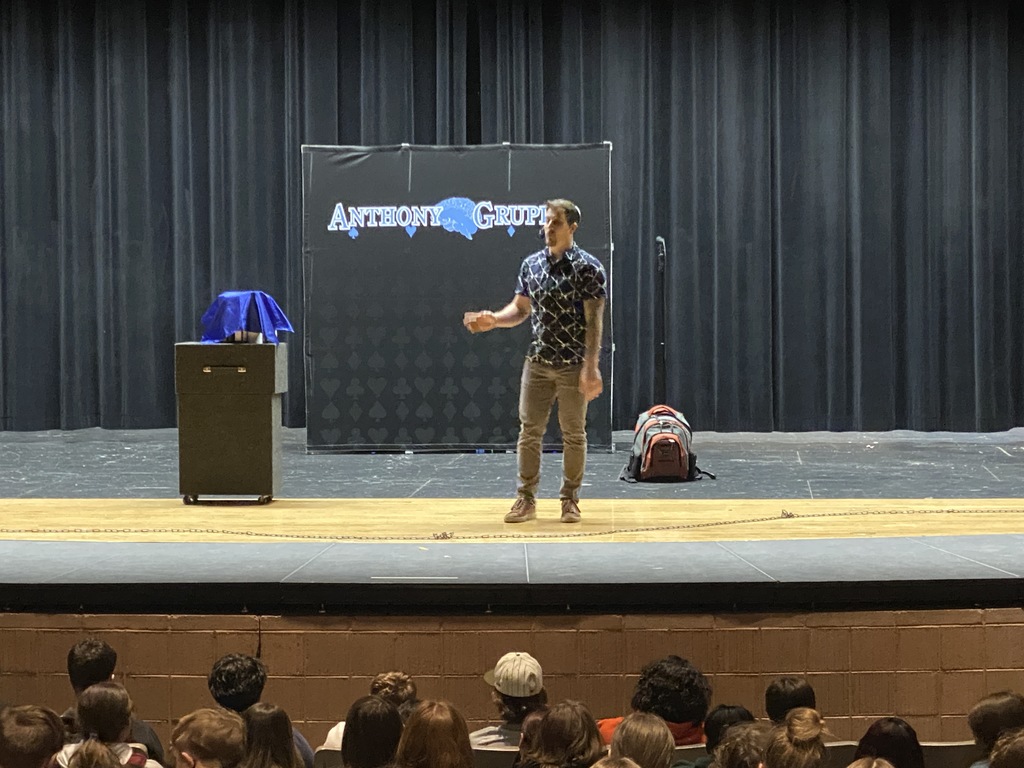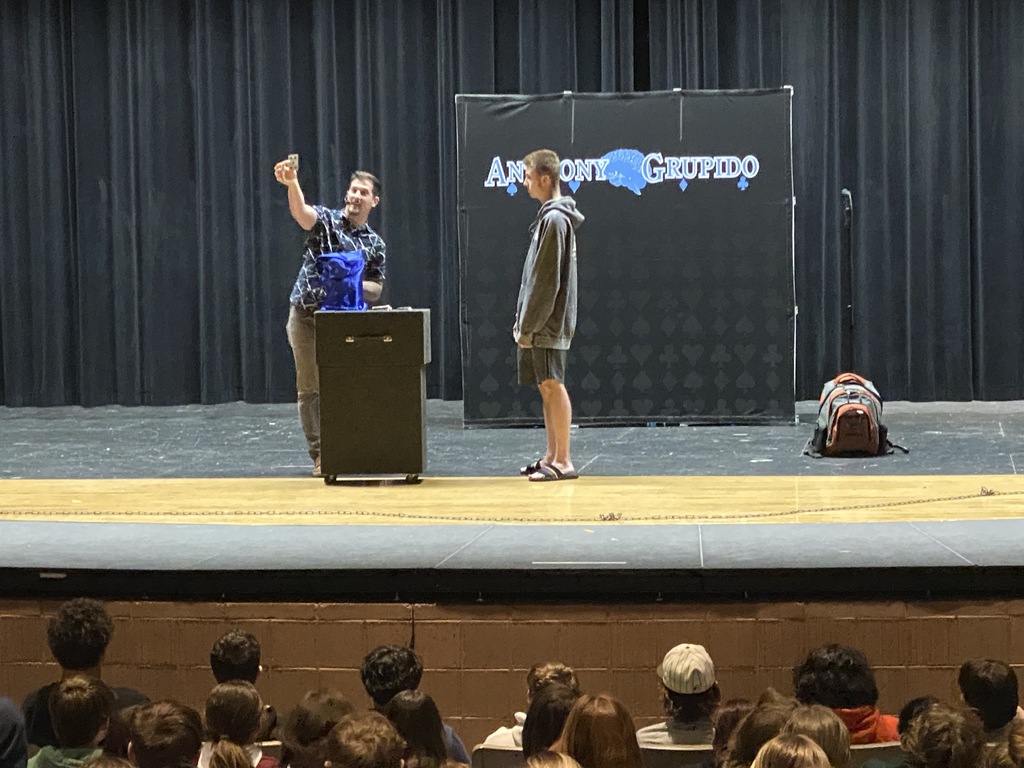 Students in Mrs. Dake's and Mrs. Richardson's classes made cards to thank our local doctors at Covenant for National Doctor's day.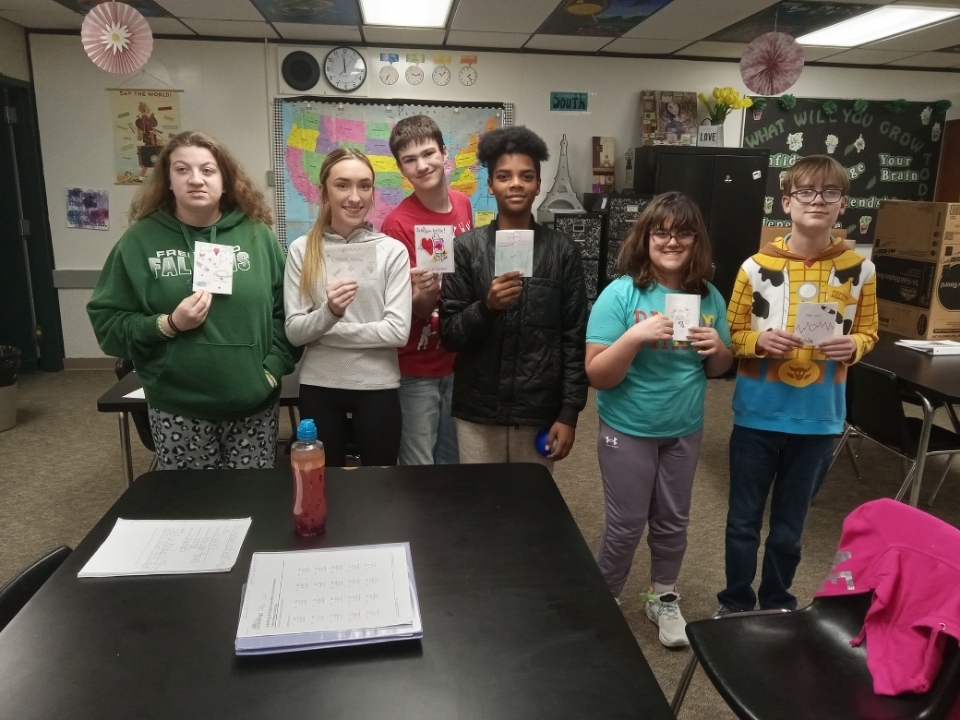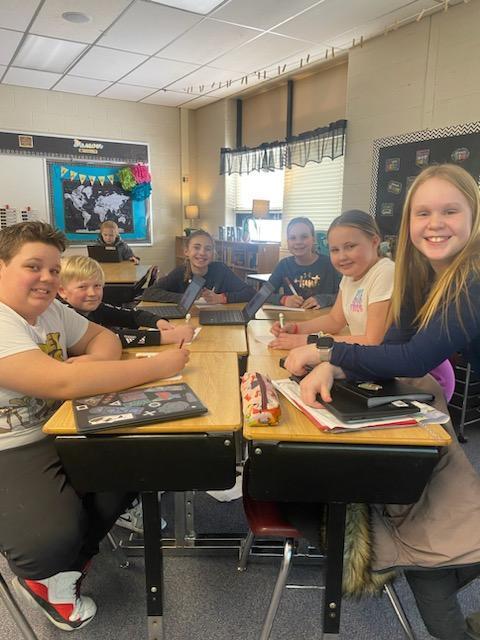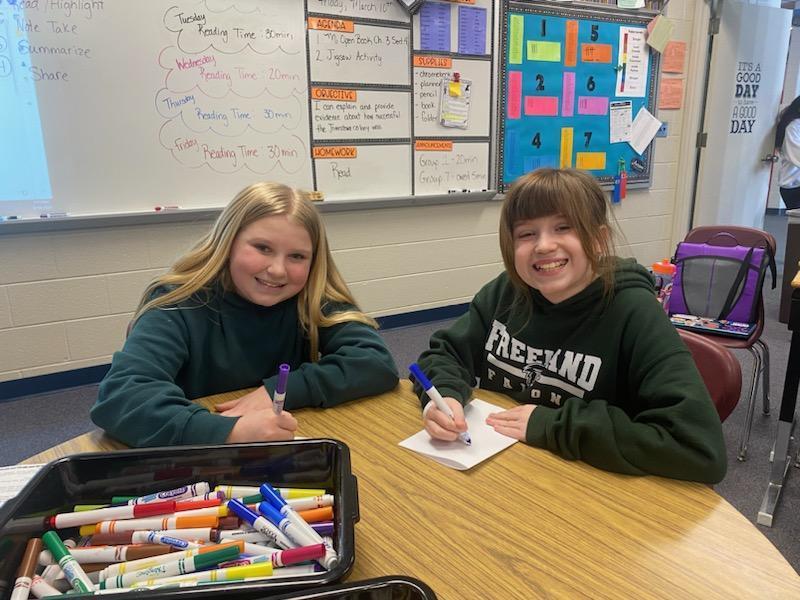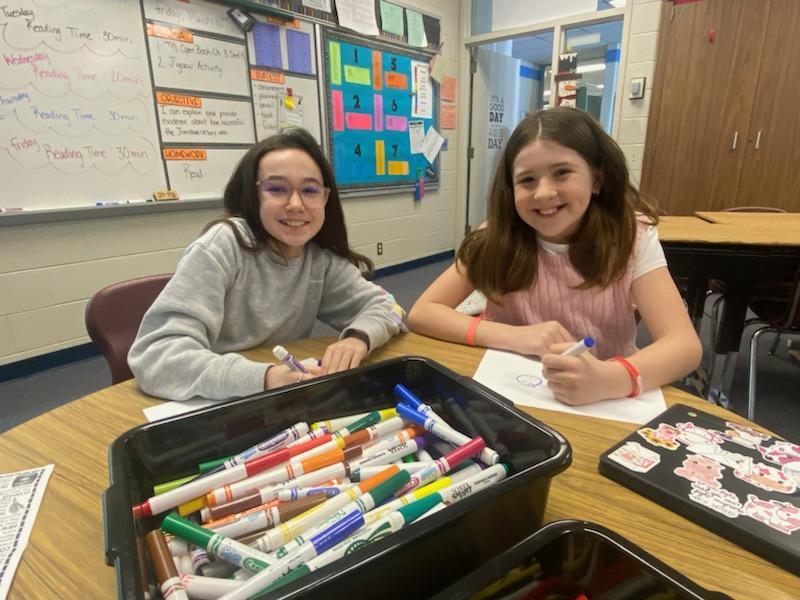 If you have a 2nd - 6th grade student, please join us for STEAM night on March 16 from 4:30 - 8 pm at the Elementary School. Attendees will participate in experiments, learn about STEAM careers, and enjoy various activities with our FHS Green Club Members. We hope to see you on March 16th!

Frozen is coming to town! Students of all ages are working hard to prepare for the performances by practicing and building props. Frozen is Friday and Saturday at 7 pm, and Sunday at 2 pm. Limited tickets are still available at
https://freelandfrozen2023tickets.ludus.com/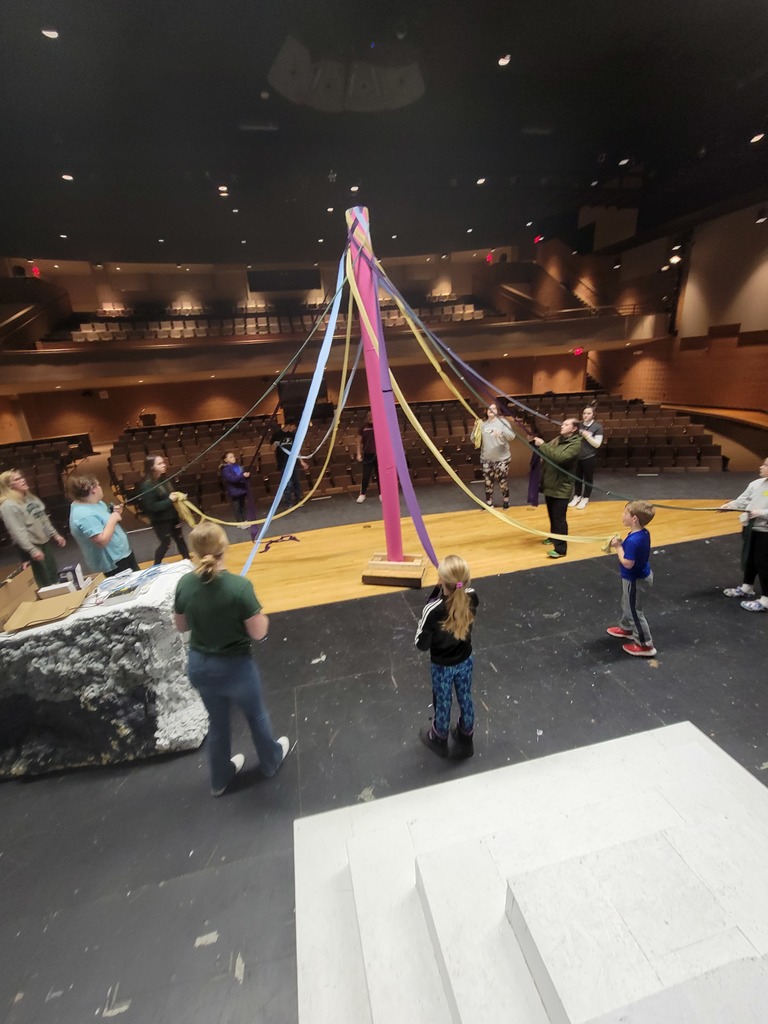 Thank you for your service to our school district, Mrs. Sampson! Congratulations on your retirement.

Congratulations to our FHS National Honor Society Members who participated in Saturday's Polar Plunge to benefit Special Olympics. Our students won two first place trophies for the day! They raised the most donations of any school with $6782, and the also won the Best Team Costume award. Great job students and NHS Advisor, Mr. Kostrzewa!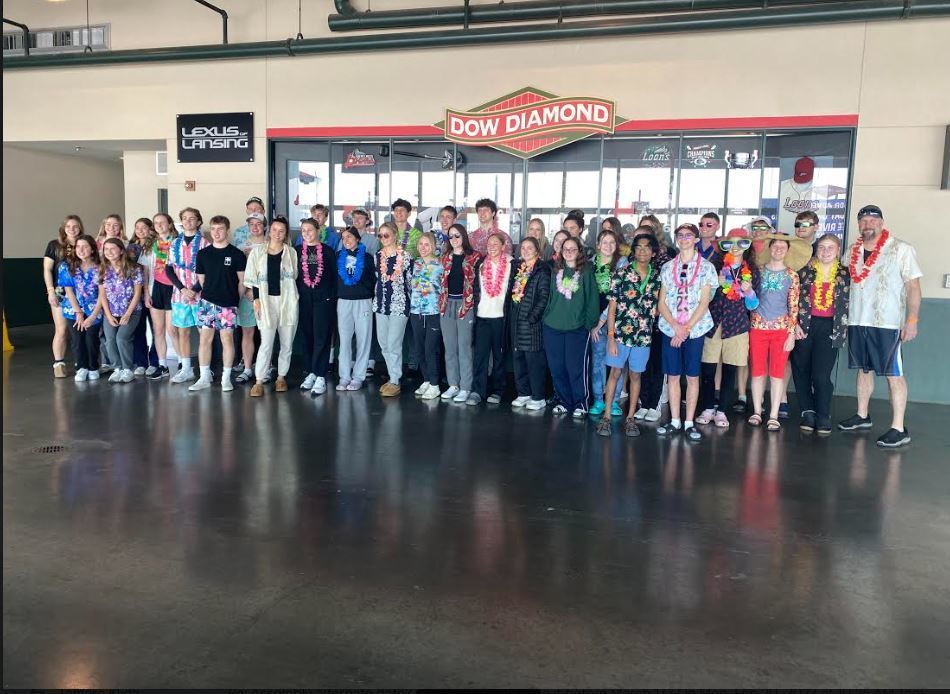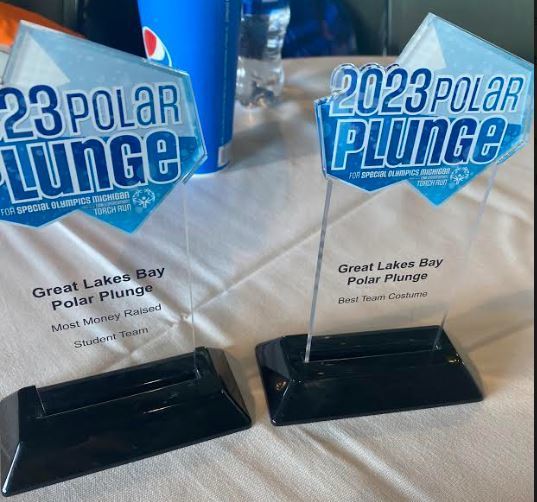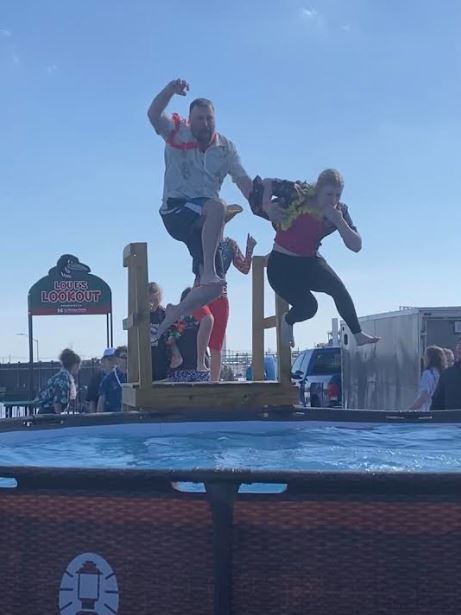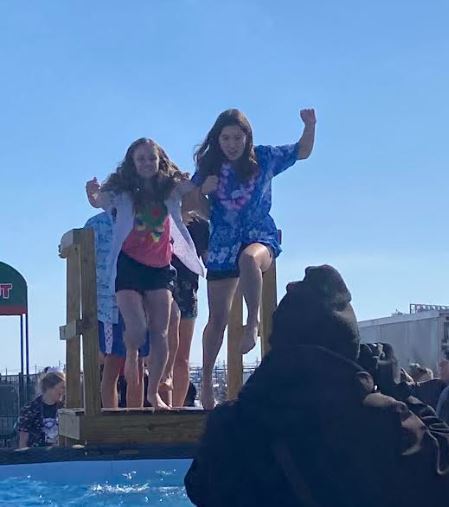 A big THANK YOU to our local businesses that supported the senior class by donating to the purchase of senior banners that will be displayed around town during May and June. Please support these local businesses as they are very generous to our schools! All Auto Quest Century 21 Signature Realty Frankenmuth Credit Union Freeland Lions Club Muddy Watters Old Town Junction Schauman Rental Properties Super Cute Tri City Blinds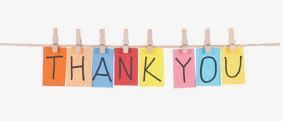 Congratulations to FHS Senior, Sophie Maxwell, in recognition of her $1500 scholarship from the Rotary Club of Saginaw Valley. Sophie was honored yesterday at a luncheon at The Timbers. She accepted her award and is pictured here with her parents, Meghan and Leif Maxwell. Mrs. Essex and Joan Douglas from the Rotary Club also celebrated with Sophie.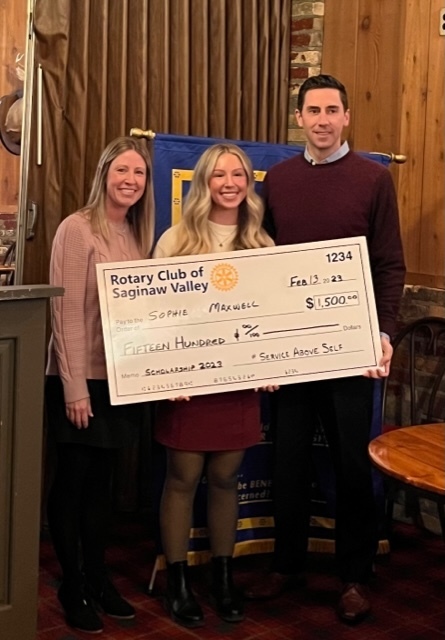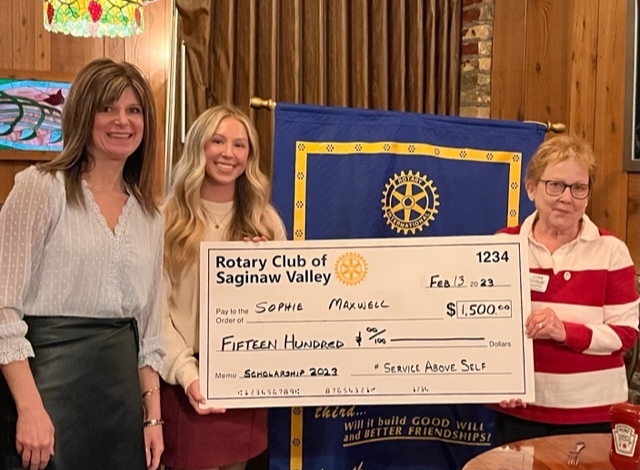 Today FHS students in Mrs. Richardson's room had a visit from Mame Hill, who wrote the book Down in the Amazon. Students learned about insects and spiders in the rainforest and learned about the culture of the people who live there.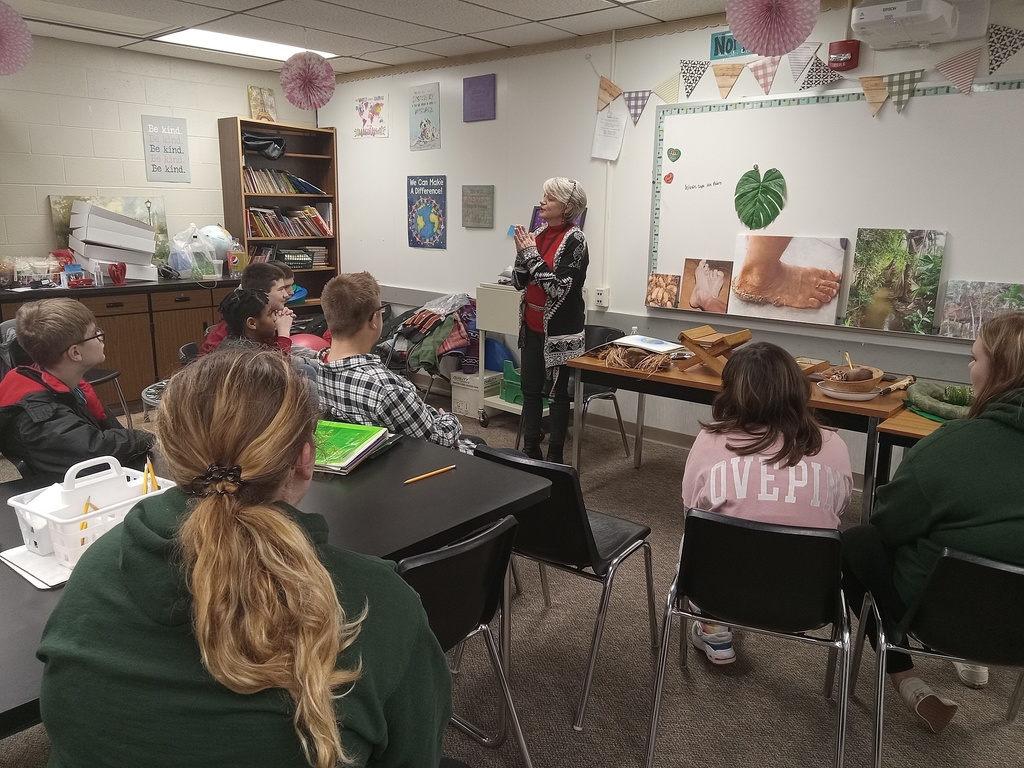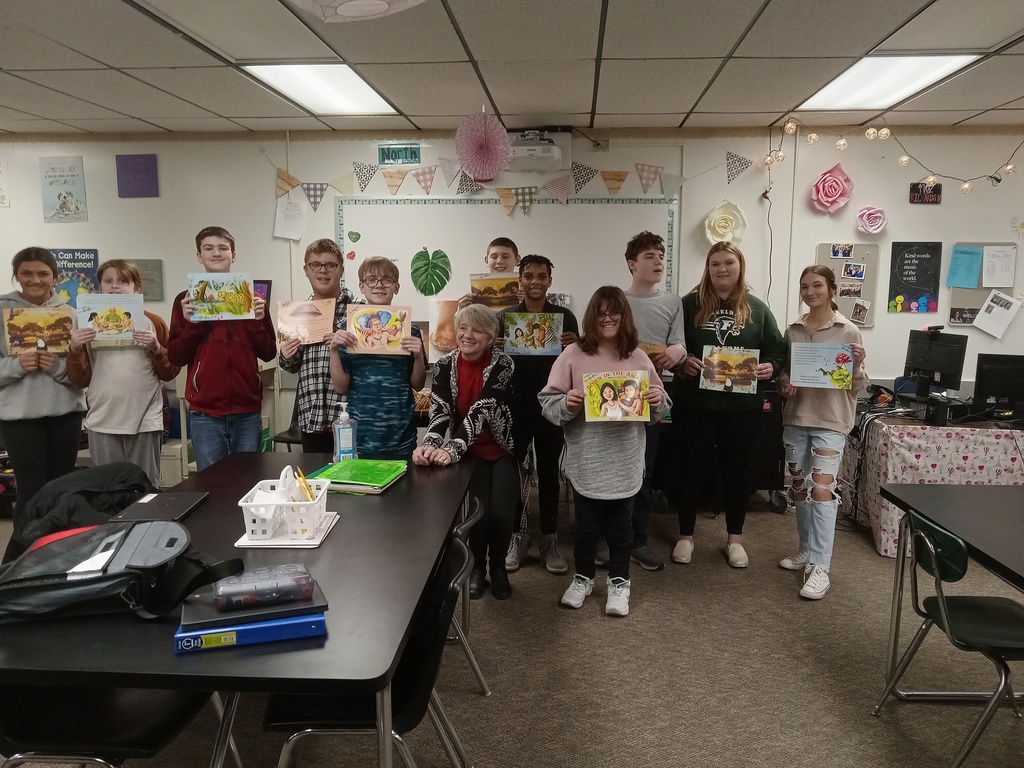 It's National School Counseling Week. Thank you to Mrs. Essex and Mr. Duley for all you do for our students, parents and staff at FHS!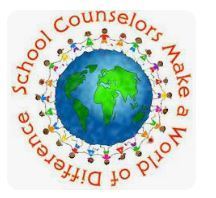 If you have extra pop cans around the house, please consider dropping these off at the high school on Saturday, February 18 or Saturday, February 25, from 9 am - 3 pm. Senior parents are collecting pop cans to help defray the cost of our senior banners. Thank you in advance for any donation you may be able to give.